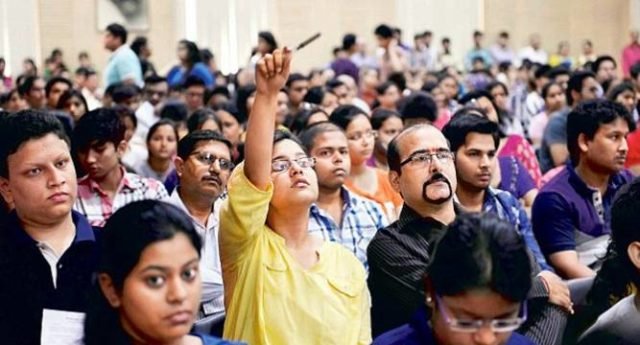 A wake up call for all the Delhi University aspirants out there. The online registration for Delhi University admissions 2016 started on 1st June 2016 and applications will be accepted till 19th June 2016. 

Ain't got any clue about the Open Days? Well,it's simple logic. When you are suffering from an ailment, you consult a doctor. When stuck in a legal tiff, a lawyer comes to your rescue. Then how about an educational/career expert, when making career decisions? And Delhi University brings to you Open Days.Being held at various DU colleges,the Open Days will be conducted in 2 batches- 10 am- 1pm and 4pm-7pm.This platform can help you to clear out even the faintest doubt that strikes your mind. After all, "Career ka sawaal hai, Koi bhi risk dangerous hai".
With over 54,000 seats, Delhi University has a huge capacity to accommodate each one of you.So don't worry about that. The sole purpose of these sessions is to channelize your choices/preferences/interests and provide a sense of direction under expert guidance.No one's a born genius.You may haven't scored as good as Gupta ji's daughter ( no one has since she is the topper),and that's the reason why your world has gone topsy turvy since the past few days. "Arey why take tension, yeh professionals aapki sahayata ke liye hi hain".
A lot of apprehensions may keep your mind occupied and you may be unable to make a rational choice. Questions like, "Can I take BA Eco. Hons without Maths?", Are Legal studies and Mass media academic subjects or electives?", "Agar Physical Education(PE) include karun best of four mein, then what is the criteria of deduction?" and so on and so forth.

There is always a first time and such queries are bound to arise,so why hesitate? If you think that pondering over these questions by just sitting in your comfy armchair is going to solve your problem,then get alive because no miracle is going to happen.Even after hours of thinking,you'll be clueless, helpless and blank.So stop wasting your time and make the most of this opportunity by attending the Open Days on any one of the days as per the schedule.
Probably you are calling your seniors, asking them, "Fitness trial mein kya hoga?", ECA mein painting included hai?" etc. etc.,please spare them and stop bugging them with yiour loads of queries.Agar correct and sure shot advice chahiye toh grab one of your friends or get along with your parents and resolve all dilemmas regarding the admission procedure.
The first cut-off list will be released on 27th June, 2016 and following that,there will be only 4 cut-offs.So you better pull up your sleeve and catch your first train to Delhi,before it gets too late.
A small Tip- Prepare a proper list of all your queries, doubts and questions and be sure of what you exactly want to know. That'll save time, both yours and the experts.

Schedule For Open Days-
SGTB Khalsa College, University of Delhi, North Campus- Monday, 6th June, 2016.
Sri Venkateshwara College, Benito Juarez Road, Dhaula Kuan-Tuesday, 7th June, 2016.
Zakir Hussain College, SKB Basti, Press Enclave, Ajmeri Gate- Wednesday and Thursday, 8th and 9th June, 2016.
South Campus, South Moti Bagh- Friday and Saturday, 10th and 11th June, 2016.
Like our Facebook Page for all the latest admission updates and to get your queries resolved.