The first phase of the Recruitment Season 2020-21 (Sep'20 – Dec'20) at Shri Ram College of Commerce turned out to be a success. Despite the pandemic-induced slowdown, SRCC witnessed continued participation from its esteemed recruiters. Having witnessed a growth-oriented start to the Recruitment  Season 2020-21, the same is expected to continue in the second phase.  
PHASE 1- RECRUITMENT SEASON 2020-21 IN NUMBERS: 
(September'20 – December'20)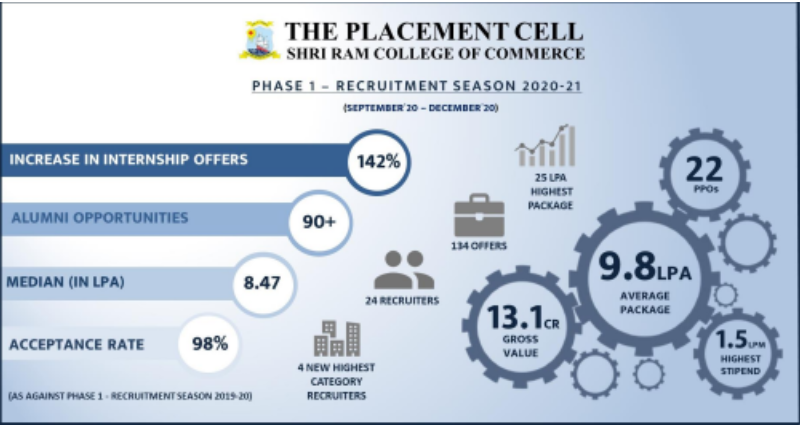 "While the pandemic posed a lot of challenges, we are proud of the fact that the Cell has grown tremendously  during the period. The Cell was elated to host a pool of new recruiters from diverse backgrounds such as Ab InBev (FMCG) and Accenture Strategy (Consulting). The Cell also floated 90+ alum opportunities including consulting giants Bain Capability Network and is aiming for yet another successful Placement Season." – Raghav Singodia, Secretary, The Placement Cell, SRCC. 
With over 130 offers from 24 recruiters, the average compensation scaled up to INR 9.8 LPA at SRCC. The highest package for the first phase (Sep'20 – Dec'20), INR 25 LPA, was offered by a global financial firm.  While the number of offers extended in the finance sector saw a 110% rise, various other sectors witnessed similar upward trends silencing all apprehensions regarding hiring freeze. Consulting firms like McKinsey &  Company, Bain Capability Network, financial institutions like Deutsche Bank, Citibank, and several first 
time highest category recruiters including Kepler Cannon, Accenture Strategy ended up handpicking fresh talent from the college for multiple business domains.  
"Given the economic slowdown, we are extremely proud of having been able to continue strengthening our recruiter pool thereby bringing an array of diverse opportunities for our candidates." – Prof. Amanpreet  Kaur, Convener, The Placement Cell SRCC. 
Summer Internships at SRCC were yet another accomplishment with the number of offers increasing by 142% and Pre-Placement Offers soaring to an all-time high of 22 during the first phase.  
Proving that placements are not the only exit option at SRCC, an increasing number of students continue to pursue post-graduate and other professional courses straight out of college including but not limited to Civil  Services Examination, Chartered Accountancy, Actuarial Sciences and the like.
Download the DU Express app on Play Store to stay connected with all the latest admission news and campus news 24×7.Click here to download the app.
Join our Telegram channel today free of cost to get all the latest updates delivered directly on your smartphone.Click here to subscribe to our Telegram channel or search for – @DUExpressIndia on Telegram to join.