Pertaining to the financial crunch as they had mentioned, DU was unable to pay teachers and staff members regularly for the past six months. Delhi University Teachers' Association, popularly known as 'DUTA' had held a couple of strikes during the lockdown period to protest against this injustice. Finally, Delhi Govt's 4th installment is a win for DUTA.
A WIN FOR DUTA: THIS 'GRUBSTAKE'
The issue of the irregular release of funds to these colleges has been a point of contention between the colleges, the Delhi government and DU for over a year now. The fourth installment didn't ring a bell the entire January and the third one wasn't received entirely.
But better delayed, than denied. The Delhi government has sanctioned the release of the fourth installment of funds for the 12 colleges under the University of Delhi which are fully-funded by the Delhi government. This grubstake can be labeled as a win for DUTA.
The government order states that Rs 82.79 crores have been sanctioned to pay salaries and a number of Rs 9.5 crores under General or Grants-in-Aid other than salaries category.
"An emergent meeting of the DUTA Executive will be held to decide on our action program," President Dr. Rajib Ray said. DUTA had called for a strike — DU Shut Down — to protest the lack of funds among other issues. This is the fourth and final installment of Grant-in-Aid released for the colleges for the year 2020-21.
Read | Plenty Applicants For DU VC Post, Acting VC Likely To Get Extension
AFTER SHUTDOWN AND STRIKES, A SIGH OF RELIEF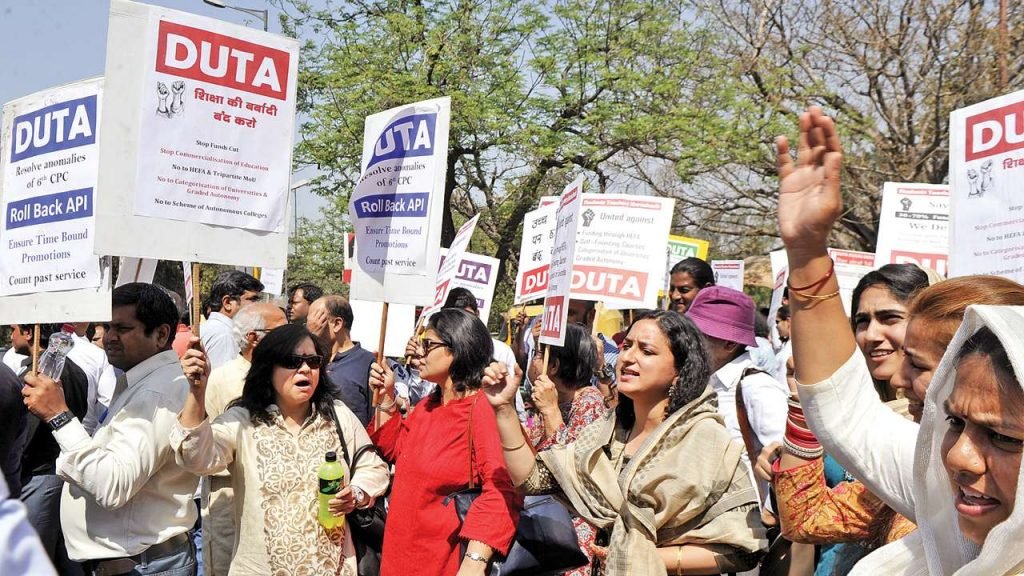 The staff of 12 DU colleges has not received their salaries for about six months. Above all, the irregularities have been on for around 14 months now. In addition to DUTA, they have been protesting about this issue. Also, they had written to Delhi Chief Minister Arvind Kejriwal.
"The DUTA has been writing to you for more than a year now communicating its dismay at the manner in which your government is treating the employees by linking the release of grants and payment of salaries, pension, medical bills and other dues of employees with extraneous reasons that are neither the making of the employees nor in their control. It is also not acceptable that the Government expects institutions to pay salaries from other resources than the grant-in-aid that is the responsibility of the Government. It is extremely unfortunate that the actions of the Government have hit at the basic right to livelihood of employees," DUTA said in its last letter to the CM.
Meanwhile, teachers of Deen Dayal Upadhyaya College began a 'non-cooperation movement'. It began on Monday and involved stopping all teaching and official duties.
The rest of the 11 colleges are:
Dr Bhim Rao Ambedkar College,
Shaheed Rajguru College of Applied Sciences for Women,
Aditi Mahavidyalaya,
Keshav Mahavidyalaya,
Shaheed Sukhdev College of Business Studies,
Bhagini Nivedita College,
Acharya Narendra Dev College,
Maharishi Balmiki College of Education,
Bhaskaracharya College of Applied Science,
Indira Gandhi Institute of Physical Education and Sports Science, and
Maharaja Agrasen College
At last, after all these strikes and shutdowns, the 4th installment comes as a sigh of relief.
Download the DU Express app on Play Store to stay connected with all the latest admission news and campus news 24×7.Click here to download the app.
Join our Telegram channel today free of cost to get all the latest updates delivered directly on your smartphone.Click here to subscribe to our Telegram channel or search for – @DUExpressIndia on Telegram to join.