The University of Delhi has released the Open Book Examinations (OBE) scorecards for undergraduate courses.
Students can now access their 'May-June 2020' semester results online via DU's official website.
Click here for the direct link.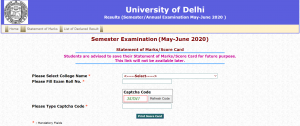 HOW TO DOWNLOAD UG OBE SCORECARD 2020
Click on the OBE result

link

.

Insert valid credentials — College Name and Examination Roll Number of the student.

Submit and access the respective scorecards.
Download the DU Express app on Play Store to stay connected with all the latest admission news and campus news 24×7.Click here to download the app.
Join our Telegram channel today free of cost to get all the latest updates delivered directly on your smartphone.Click here to subscribe to our Telegram channel or search for – @DUExpressIndia on Telegram to join.