Amidst the tension evolving in the minds of DU aspirants, the University has presented a new ray of hope for students keen in pursuing finance, business and economic courses.
Delhi University has decided to increase the number of seats offered under Bachelor of Management Studies (BMS), Bachelor of Business Administration (Financial Investment Analysis) and BA (Honours) in Business Economics from last year's 884 to a whooping number of 1,162.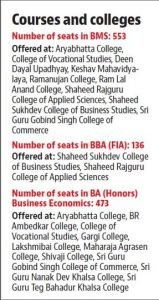 The admission to these courses is conducted on the basis of performance of students in Joint Admission Test (JAT). Moreover, the university has also done away with group discussion and personal interview from the selection process.
The admission will be strictly based on the performance of candidate in the JAT which is a two-hour long test based on objective-type, multiple-choice questions evaluating the aptitude of the candidates and Class 12 Board marks. The weightage for the entrance exam would be 65% and 35% for the marks scored in Class 12th.
The eligibility of the courses is passing score in 10+2 (or equivalent) examination with aggregate 60% marks (55% for SC/ ST/ WW/ Physically Challenged Categories) in four papers including English and Mathematics.
For more updates, keep following DU Express.
Download the DU Express android application today and stay updated with all the admission updates and college news 24×7 on your smartphone. Click here to download the app | IOS app launching soon.
DU Express is on Telegram (@DUExpressIndia). Subscribe to our channel by clicking here to stay updated with all the latest campus news, admission updates & college events happening near you for free!