The decriminalisation of section 377 by the Supreme Court of India has been a huge legal leap for the victory of the LGBTQ+ community. The University of Delhi, synonymous with having a liberal student body sees a fair share of pride parades take place within its campus.
Is sensitization to the LGBTQ+ community a widespread phenomenon on the campus?
Here's what some of the students in DU feel about the community.
Siddhant Saini, a student at Kirori Mal College, has a very straightforward opinion. He says, "Apart from their sexual orientation, there's not much difference. We're all the same."
Unfortunately, people's sexual orientations have dogmatically been associated with their humanity. Not only does this amplify the discrimination they face, but it also dehumanizes them, making social stigmas against them hard to resolve.
"The LGBTQ+ community in India has been neglected to such an extent that there is a certain atrocity between this community and people belonging to other communities. Some people hate thinking someone they know could be gay or bi or anyone, they need to evolve and put this orthodox thinking to bed. PEOPLE NEED TO LET OTHERS BE THEMSELVES, REGARDLESS OF THEIR SEXUAL ORIENTATION, THEY NEED TO ACCEPT THEM FOR WHO THEY ARE! LGBTQ+ community needs endless support in their upcoming battles", said Rythum Goel, a student of School of Open Learning, DU.
Although pride parades in India are essential to show people's acceptance of a community that is still intensely stigmatized, they are often accessible to people that already exist in progressive groups. 
Ananya Gaur shares personal observations within the campus. She said, " DU is mostly pitched as a university with a more accepting atmosphere, and it is, indeed, if you manage to find other LBGTQ+ individuals/circles. I do feel however that this is a misconception on a certain level because discrimination and harassment, targeted or out of ignorance, are often ignored. Most societies have *air quotes* rainbow-themed events, especially during pride month. While this is certainly liberating and an opportunity to be free and oneself for many people, it isn't enough. They're are turning out to be more gimmicky. What I feel is needed alongside is sensitisation, which would not lead to homophobia being ignored."
The Hijra community faces a terrible irony in India.
While people believe them to be auspicious and request their presence in matters of celebration, they are often seen and addressed in a derogatory fashion outside these incidents.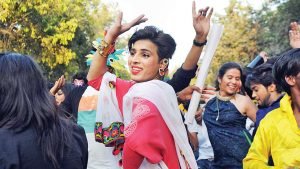 Yuvika Dhingra, a student of Shaheed Rajguru College of Applied Sciences for Women has experience working with the transgender community in India. She says, " My personal experience has been a beautiful one by working with transgender people through Enactus and getting to know their real struggles. Different gender and sexual orientations that define them can only define their body and hormones but not their minds and hearts…The LGBTQ+ community is marginalized, but should it even exist as an excluded community in the first place?"
Social and cultural exclusion of people has a terrible impact on their mental health. Anjana Hareesh, a bisexual person from Kerala was lost to suicide after her family's unacceptance of her identity.
The American Academy of Pediatrics published a study where more than half of the transgender male teens who participated in the survey reported attempting suicide in their lifetime.
Should our education be  LGBTQ+ inclusive?
Nilesh Goswami, an English major says, "Educational institutions should encourage conversations about gender identity and educate students about prejudices and stereotypes regarding the LGBTQ+ community and to what degree these prejudices/stereotypes are entrenched in our society. Also, it is imperative to teach school students about gender pronouns and the need to ask individuals about the pronoun that they would like to be addressed with. Sex education should be made compulsory in all schools. Many school students don't even know about the most fundamental difference between sex and gender. These things apply to colleges too, but school is where it all starts from".
The debate between sex and gender, however, is more nuanced within the medical community.
While a part of the community believes gender to be a social construct and biological sex as something one is born with, there is dissent about this in the medical community. 
Arthur Arnold, a research professor at UCLA's Department of Integrative Biology and Physiology, in an interview, believed that gender isn't restricted by the limitations of one's body and physiology. 
On the other hand, Debra Soh, a neuroscientist specializing in gender, sex and sexual orientation says, "Science doesn't back up gender as a social construct."
With a contradictory stance between medical professionals, the introduction of related studies among school students have parents strongly divided. 
It is heartening to see such an overwhelming response in students from a pubic university in support of the community. However, the university is inherently a place that is limited to academic circles.
With the sky-high scores required to be a part of the University, it is imperative that we take the community's acceptance amongst the youth of our country with a grain of salt.
Also read: Colours of Pride; How We Can Create A Safe Space For The LGBTQ+ Community In Delhi University
Download the DU Express app on Play Store to stay connected with all the latest admission news and campus news 24×7.Click here to download the app.
Join our Telegram channel today free of cost to get all the latest updates delivered directly on your smartphone.Click here to subscribe to our Telegram channel or search for – @DUExpressIndia on Telegram to join.