The seminar was attended by Director of Connecting Dreams Foundation Dr Simi Mishra, Mr Arpesh Mishra from INDIACSR, Ms Sunanda Rao from Career Beacon and our main speaker Ms Devyani Verma, an influential speaker.
The event was about sensitive issues prevailing in the society. Gender issues, fundamental rights, cyber security, sexual harassment, security at workplace and many more issues about which new generation needs to know were discussed and their cause and mindset behind the crime were discussed by Ms Devyani Verma.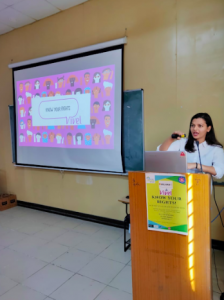 Making people aware of their rights is just their way of saying "Ab Samjhauta Nahi". The interactive session have made both boys and girls feel more informed.
The students also got to know about the Good Air Summit initiative and pledged to work for a better environment. #MakingIndiaBreath
Besides this a book 'Know Your Rights' with gift hampers was handed over to students who attended the session.
Download the DU Express android application today and stay updated with all the admission updates and college news 24×7 on your smartphone. Click here to download the app | IOS app launching soon.
DU Express is on Telegram (@DUExpressIndia). Subscribe to our channel by clicking here to stay updated with all the latest campus news, admission updates & college events happening near you for free!