Delhi University (DU) on Thursday started its admission process for the academic session 2020-2021 by beginning the online application process for foreign students. Foreign students seeking admission to Delhi University can now apply for various undergraduate, postgraduate, diploma, and research courses.
In a statement issued on the university's website on Thursday, the university's registrar Vikas Gupta said –
"Foreign students' registry (FSR) of the University of Delhi is inviting online applications from foreign nationals for its various programmes of study for the academic session 2021-22. FSR is a single-window for all foreign nationals who wish to take admissions in the University of Delhi."
Although the online admission process has begun from 8th April 2021 for all courses, the last date for submitting applications varies for different courses. The last date for undergraduate programmes is May 31st, while for postgraduate programmes it is June 29th, and for MPhil and Ph.D. courses it is July 30th.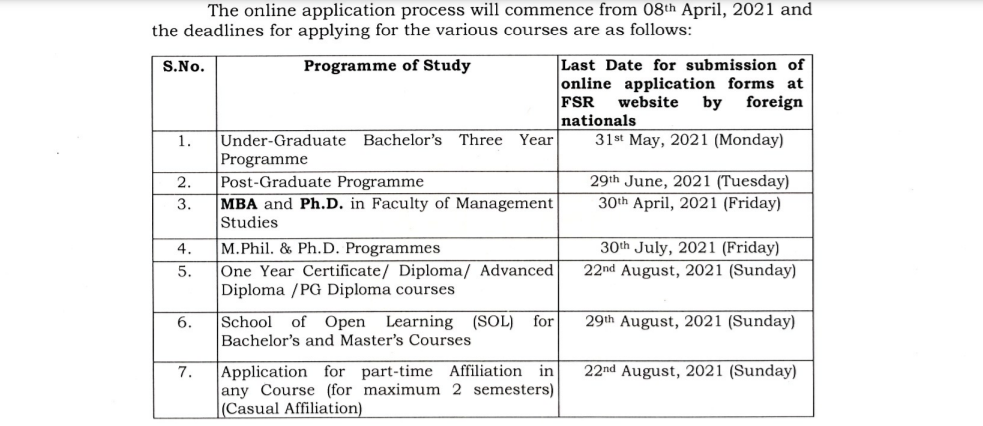 Admission-related and other information for foreign nationals as well as the online application form are on the FSR's website: https://fsr2021.du.ac.in/
Link to the statement issued by DU: http://www.du.ac.in/uploads/new-web/08042021_PressRelease.pdf
Read Also: DU To Train 2,000 Foreign Students In Indian Dance & Music
Download the DU Express app on Play Store to stay connected with all the latest admission news and campus news 24×7.Click here to download the app.
Join our Telegram channel today free of cost to get all the latest updates delivered directly on your smartphone.Click here to subscribe to our Telegram channel or search for – @DUExpressIndia on Telegram to join.