What is Project RISE?
ARISE Impact started a self driven initiative called Project RISE  to empower the visually challenged students at Indraprastha College for Women of Delhi University. The aim of the project is to empower lives through self-learning and self-training methodologies. Bilingual-audio based Course Modules are developed under the project. This is developed keeping in mind the challenges faced by the visually impaired. Furthermore, ARISE Impact trainers aid them in building confidence. This training involves different fun-loving games along with personality development activities. Additionally, the trainers help in imparting employability skills. As a result, it will help them to pursue their cherished career path and dreams.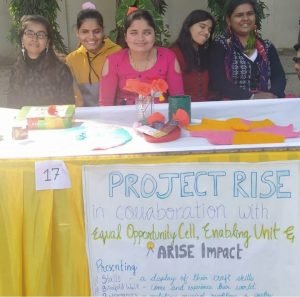 The entire team of Project RISE is passionately working towards building their networks and partnership with employers. Consequently, this will help the differently abled students to be hired easily.
The faces behind the project 
Bhavika Kohli from IPCW led a group of college students and hence ARISE Impact was started. Currently, the project is being enthusiastically carried out under the leadership of Priyasha Sharma, a second year student at IPCW. She is working along with the volunteers of ARISE Impact from IPCW. The enthusiasm of these volunteers coupled with the developed course models have touched lives of thousands of differently abled across India. Consequently, the efforts of the team during such sessions, helped in improving concentration levels. As a result, their test scores improved by an average of 21%.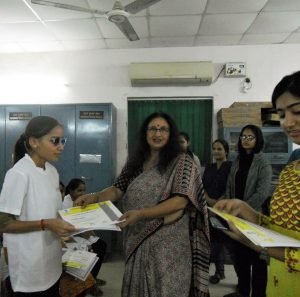 How can you join the project?
The recruitment process for the project is open for the students of IPCW. Interested candidates can apply via form floated on the social media platform on Instagram (@ariseimpact) . Join the team to make an impact in our community and to bring a much needed change!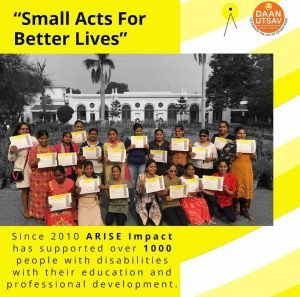 Download the DU Express app on Play Store to stay connected with all the latest admission news and campus news 24×7.Click here to download the app.
Join our Telegram channel today free of cost to get all the latest updates delivered directly on your smartphone.Click here to subscribe to our Telegram channel or search for – @DUExpressIndia on Telegram to join.