On Thursday,National Student's Union Of India (NSUI) organised a media interaction of its candidates for DUSU elections 2018.The party raised points from its General Manifesto & Special Manifesto aimed at the female students.
Leena,contesting for the post of Vice President talked about the Women Manifesto.She told this time NSUI is focusing on Women Empowerment.Some of the policies regarding women empowerment includes-
Last year they have put up Machines for sanitary napkins in 32 colleges and in rest of the college they will put up this year.
There will be total care for the safety of Women Empowerment .
Special Program to Identify 100 young Women leaders in DU that will be done under the guidence of Former Chief Minister of Delhi, Smt. Sheila Dikshit.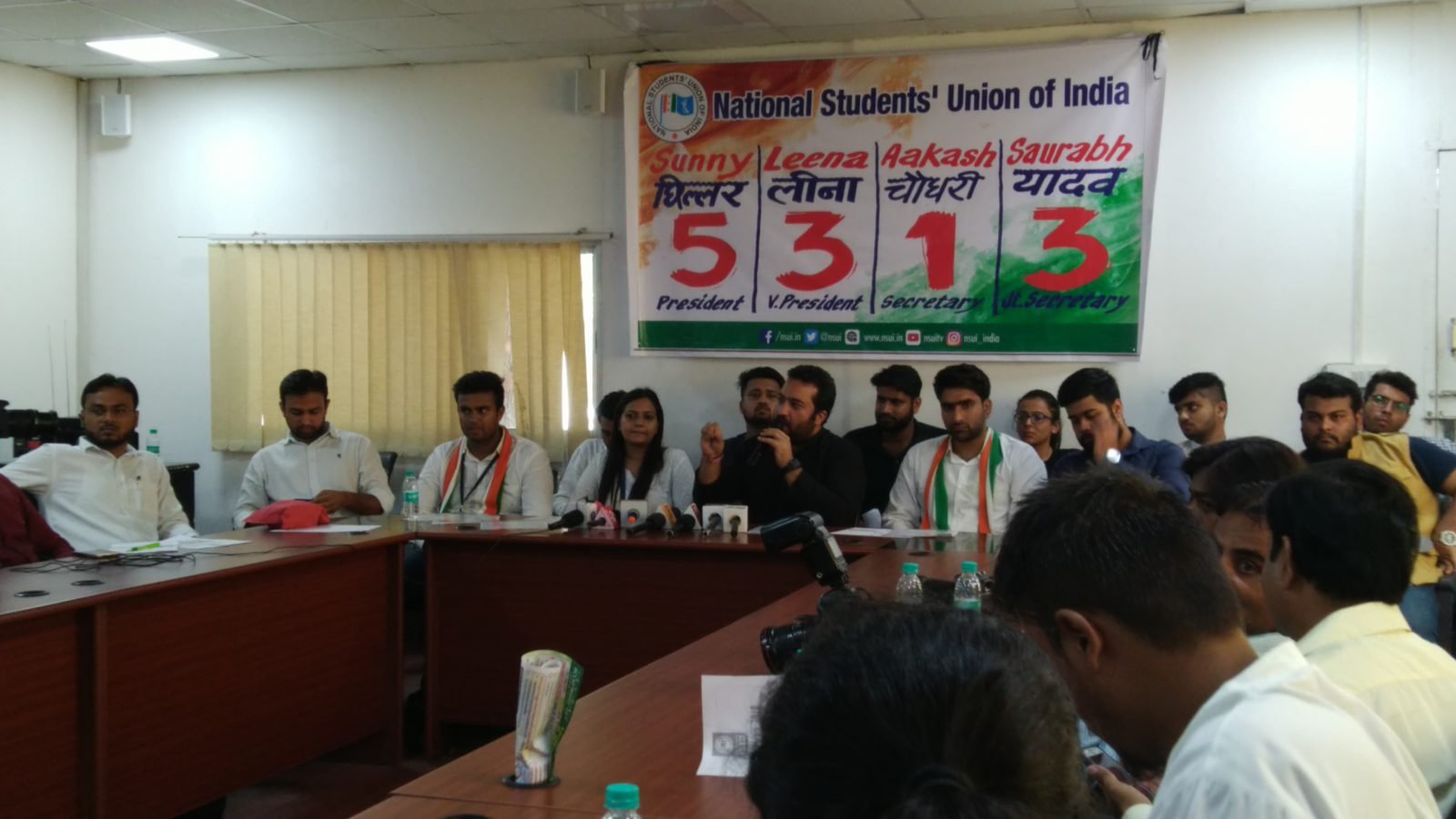 Other candidates discussed the General Manifesto in detail and highlighted a few important points from their manifesto which included-
The "Institution of Eminence" Tag-
DU will get Rs.1000 crores extra budget ->~Rs.75000 extra per student .
DU will become world class University with international opportunities .
DU will get more faculty and improved infrastructure .
NSUI will fight for the Student Rights and an Affordable Delhi University-
Complete meal thali for Rs.10
Reduction in fees in all colleges
Construction of hostels for all students on vacant land in DU
Concessional student pass in Delhi Metro and DTC buses
Moreover,they will also fight to get pending SC/ST scholarships disbursed immediately.
We asked Sunny Chiller,NSUI's Presidential Candidate about the violence which took place at Lakshmibai College and he answered "I was busy in campaigning and I don't know about the incident,moreover the opposition parties just divert the mind of students from basic election issues because elections are going in a smooth way and they already know they are loosing by a huge margin"
Download the DU Express android application today and stay updated with all the admission updates and college news 24×7 on your smartphone. Click here to download the app | IOS app launching soon.
DU Express is on Telegram (@DUExpressIndia). Subscribe to our channel by clicking here to stay updated with all the latest campus news, admission updates & college events happening near you for free!