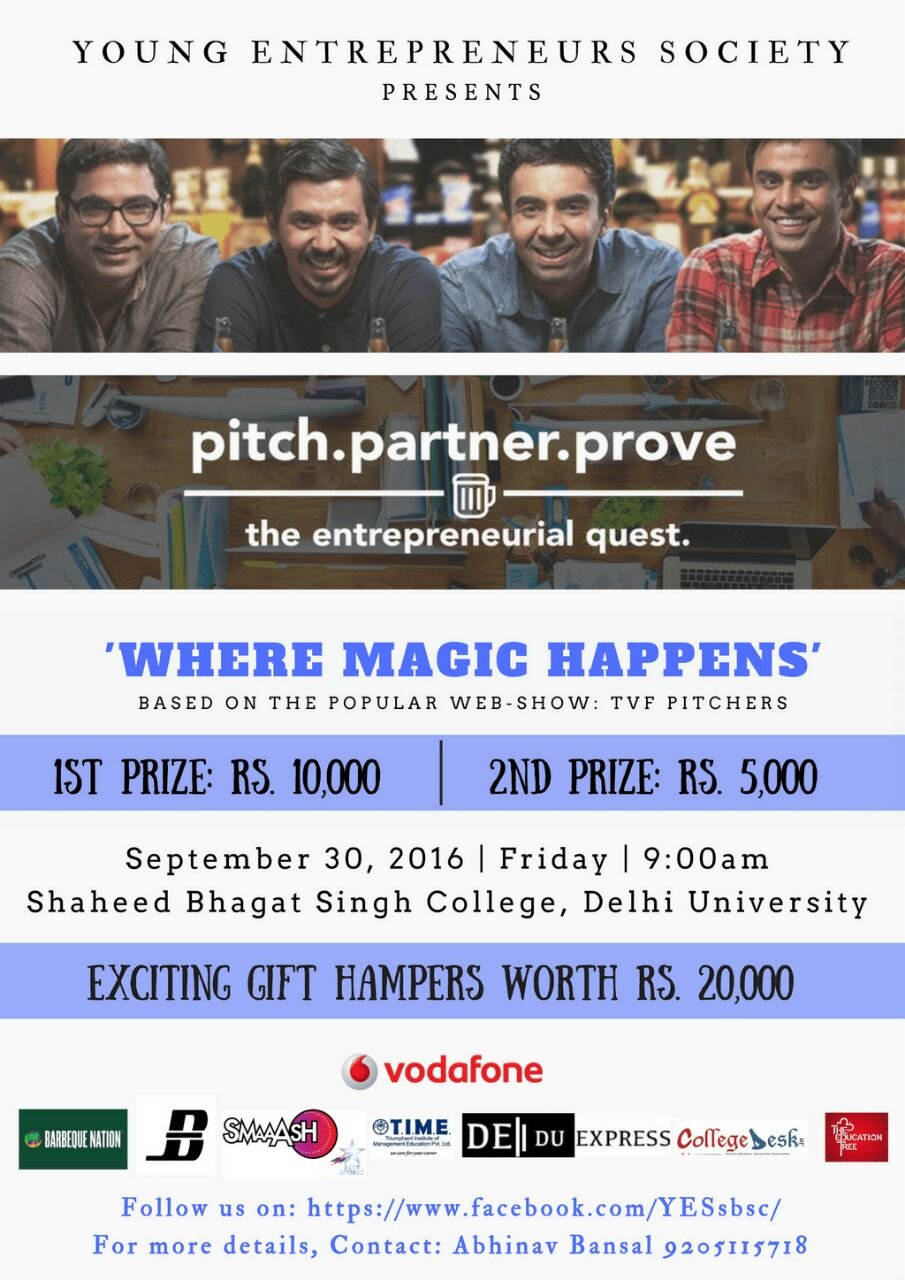 "Nahi try karenge toh definitely successful nahi honge."
DO YOU HAVE IT WHAT IT TAKES TO PULL OFF A NAVEEN, YOGI, JEETU OR MANDAL?
If the Answer is yes- come join YES, the official E-cell of Shaheed Bhagat Singh College, for their intriguing event as they invite students from all colleges and schools to participate in PITCH-PARTNER-PROVE: The Entrepreneurial Quest 'Where Magic Happens!'

On the lines of the web series TVF PITCHERS, engage yourselves in the following four mind bobbling rounds that await you.
Round 1: The Jury Room- Prelims
Round 2: And Then There Were Four- Mergers and Acquisitions 
Round 3: Bulb Jalega Boss- Business and Marketing Quiz
Round 4: Surprise Round
---
Rules Of Procedure:
1. Each team shall comprise of 2 members.
2. Cross college teams are allowed.
3. An on spot registration fee of 'Çπ100 per team shall be applicable.
Yes, SBSC would be waiting for you
On: 30th September
At: 9 A.M
In: Shaheed Bhagat Singh College,
Sheikh Sarai Phase II,
New Delhi.
(Nearest metro station: Malviya Nagar, Yellow Line)
 Just like every entrepreneur, the best shall find their journey to the numerous awards and accolades!
1st Prize: 'Çπ10,000
2nd Prize: 'Çπ5,000
Hampers worth ₹20,000 up for grabs as well.
Don't wait, mark the date,
as the young entrepreneur in you awaits!
---
Register at: https://goo.gl/forms/7EBhNEE2rE0hHn7U2
For further updates and/or enquiry follow our event page :
https://www.facebook.com/events/1539556106070415/?ti=cl
Feel free to contact Abhinav Bansal, event head, by dropping in a mail at:
startups.yessbsc@gmail.com
Or ringing him up on: 9205115718
Download the DU Express app on Play Store to stay connected with all the latest admission news and campus news 24×7.Click here to download the app.
Join our Telegram channel today free of cost to get all the latest updates delivered directly on your smartphone.Click here to subscribe to our Telegram channel or search for – @DUExpressIndia on Telegram to join.